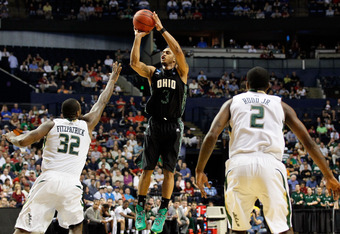 Ohio University athletics have always had a special meaning to me. Whether it was Peden Stadium on a un-seasonably warm September afternoon, the Convo' in winter, or even the frozen waters of Bird Arena, OHIO sports seems to be a map of my adolescent days and all the way to college and beyond.
Even now, living in a new city and only able to see the likes of DJ Cooper and friends on television, I'm reminded more than ever of how much my life and that university on a hill is embedded in me.
Must be in my blood.
My father is an Ohio University alumni, much like myself. An avid fan for myriad of sports, my father was on and around campus in the 1970s, a time that saw the good and bad that a smaller school like OHIO can offer. Hailing from Gallipolis, a riverfront town just forty miles south of Athens, following the misadventures of OHIO athletics was an easier task back in the day than any of the other area colleges (short of Marshall University... but, do they even really count as a school?).
It's safe to say that I was a dyed in the wool Bobcat from an early age. I still remember being captivated by the campus and the energy, even in third grade. I remember trips through the hills of Meigs and Athens county. At the time, what is now Rt. 33--a direct super-four lane straight through the hills and valleys of Meigs--was only a pipe dream. Trips to Athens involved swirling backroads, rural farms, and gravel roads for as far as you could see.
I also remember the awful nausea from these trips. You'd be surprised what an hour and a half in a car on nothing but back roads will do to the stomach of a kid that just ate Doritos.
The long and winding trips to Athens almost made the journey to the campus seem special. Of course, I cherish these moments with my father, but it's the smaller things that will always stick with me. Walking the campus in the fall. Seeing Court Street on gameday. Driving the winding and vertical roads that litter the town. The food that seemed to be everywhere on campus. Coming in and out of that long stretch of road just to see Peden Stadium and the Convocation Center burst through the treeline as an instant greeting to Athens.
Being two years removed from graduating, I still find myself missing that view.
These are all things I hold dearly and hope to share with my own children. Of course, living in Toledo now will make this a challenge. I guess I'll just have to be extra insistent to my future offspring on being a Bobcat.
As Friday approaches and the Bobcat's Sweet 16 date with the University of North Carolina approaches, I am not focused on what most would think I would be. I'm not thinking about statistics, shooting precentages, the hyperbole surrounding OHIO's Cinderella-to-everyone-that-doesn't-watch-the-MAC run, or even the small chance of victory that the Bobcat's seemingly possess.
I'm thinking of the smaller things. Of memories passed by time and thoughts of warm autumns, fond experiences, and love for a place that I can no longer be a part of.
Most of all, win or lose, I am thinking of how much I look forward to calling my father after Friday's game to talk basketball and remember where I came from.
This is what it means to be a Bobcat to me.