Last weekend was a fairly quiet one on the MAC-front. WMU and Nebraska-Omaha split, as did Miami and St. Cloud State in Blake Coleman's return to action (his first game since early December). However, UMass quietly got swept by a solid Providence team to end their regular season on a 5-game losing streak, and Bowling Green got thumped in an exhibition by the US National Development U-18 Team.
So with two weeks left, where does everyone stand?
Let's start out East and work our way back.
UMass Preparing for Road Series
As said above, UMass is done with their regular season. Their 8-21-4 record is somewhat disappointing, and they will finish no higher than 9th in the Hockey East standings, which normally would mean exclusion from the once only exclusive conference tournament in the nation.
HOWEVAH, with the addition of Notre Dame came the addition of an additional week of the tournament. The new format, which heavily favors the top 3 seeds by giving them byes and potentially weaker quarter-final opponents, is an exact replica of the old CCHA format that MAC hockey fans (specifically Bowling Green)should be familiar with. Now, the Minutemen have a chance!
Their opponent? Well, that'll still be determined later. They can finish as high as 9th, but can also finish in 10th, should Boston University manage to steal 2 of 4 points against a solid Northeastern team this weekend. Nevertheless, UMass will be on the road for their playoff series, but against whom?
I introduce to you the Minutemen Hockey Playoff Probability Punnet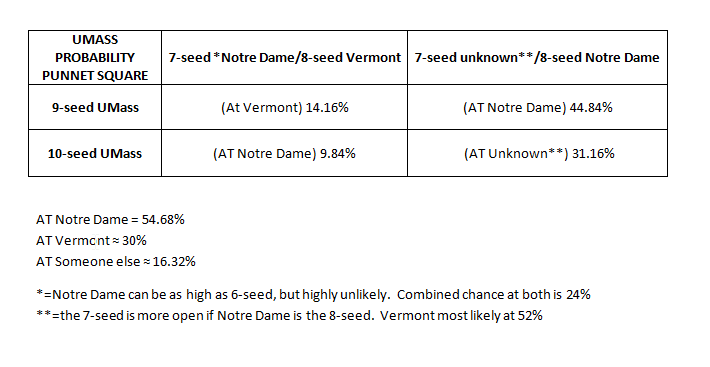 So yeah, Notre Dame is most likely. And I'd even put more money than a 55% chance they play there. I highly doubt Boston U steals points against Northeastern. As for ND getting higher than 8th? Well, they have one game left versus Vermont's two. Oh, and that opponent is #1 Boston College. Vermont isn't much better with a road series at UMass-Lowell, but it's not Boston College, it's two games, and they own the "more conference wins" tie-breaker.
Bowling Green In Brawl For Position
So while UMass is in "sit and wait" position, the Falcons are in "Fight or Flight" mode (no pun intended). With four games left in their season, BG sits 2 games out of 3rd place against Michigan Tech, who only has two games left themselves. They also sit a game out of 4th from Alaska-Anchorage, who is in the same boat as Michigan Tech in that they will watch and wait this weekend to see if they can still hold position over the cluster-"fart" that is below them.
Not only does Bowling Green sit close behind for a potential home playoff series, but they are tied with TWO other teams. Even worse, if the season ended today, the Falcons would have to go on the road to a red-hot Minnesota State team. But hey, they'd be in the tournament.......
With realignment doing a number on the WCHA, things had to change. The conference changed the format to its playoff system in the off-season from the "6 playoff series then the Final Five" to "4 playoff series then a championship weekend called the 'Final Five.'" (which makes no sense because the "Final Five" was possibly the best tournament name in college hockey because it made every bit of sense and now doesn't, but I digress). Now, only the top 8 teams make the post-season, and Alabama-Huntsville is already one of the two casualties that will not make the tournament.
The question becomes, who else?
Currently, Northern Michigan is that team. With 21 points, they sit a point behind Bemidji State for the 8-seed and 3 points (or a game and a half) behind the cluster a 5th. The good news is that they Wildcats get Bowling Green this weekend at home after the Falcons have struggled for the past month or so. Even better, is that they get Alabama-Huntsville to close their season, so they should be in unless they completely crap the bed.
Bemidji has the reverse schedule, with UAH this weekend then heading to Bowling Green on the final weekend of conference play. So BG will likely need to claim about 3 points to safely be in the tournament.
But Lake Superior State (tied with BG now) has the top two teams in the conference to end the season too. Oh man. This is the conference finish to watch, especially with the death cliff of 9th.
Western Michigan and Miami Know Their Roles
For Miami, it's fairly simple: any loss and the best you can do is 7th, and you already trail that by 2+ games with only 4 left. You also have a Minnesota-Duluth team that has been on the low end of their roller coaster season this weekend and travel to a Denver team fighting for home ice the next. Better settle in and prepare for the "pick your poison" winner of the St. Cloud State-North Dakota series this weekend that'll probably decide the regular season champion.
For Western Michigan, your decorated seniors get one last regular season home series against that same Denver team, with two points separating your two teams for the 4-seed, and the final playoff series host position. Next weekend, you get a blazing hot North Dakota team in Grand Forks, so yeah, good luck against all 11,000+ of their fans at the Ralph (and yes, they do pack that place on the regular).
Let's just focus in on WMU and the 3-6 seed position, because let's face it, Miami screwed themselves the past 3 months and if they finish in 7th, it'll take a miracle.
With a game up on 6th, and just two points behind 3rd place Nebraska-Omaha, anything is possible. With a split last weekend, they actually jumped from 6th to 4th, but only because Minnesota-Duluth has played St. Cloud State and North Dakota the past two weekends, and Denver somehow lost the Gold Pan to Colorado College in a sweep. Nevertheless, a pair of victories this weekend would almost assure them of 4th place, or at the very least avoiding heading to Colorado where they are a combined 0-3-1 this season and have played poorly in all 4 games.
Also, Western Michigan is the only MAC team with a realistic shot of making the NCAA tournament via the at-large bid, but would have to win out (sans the NCHC Title Game, hence at-large), so yeah. Good luck with that!
With all of this knowledge, this weekend becomes huge, but should clear up a LOT of the picture heading into next weekend (when UMass will actually begin their run for their 2nd NCAA bid). Here's hoping our MAC schools all can somehow find a way into the NCAA tournament this season (it is possible, however unprobable).